SRA Transformation Program
Sponsored Research Administration Transformation Program
Overview
Northwestern is enhancing the technology resources that support its research enterprise. The program's goals are twofold: to implement a new enterprise sponsored research administration management system and to deliver a revamped analytics environment required to support business functions. These aims include replacing InfoEd with Huron Grants and Agreements, a change intended to strengthen processes, maximize efficiency, and support continued growth of Northwestern research. This effort is a partnership between Northwestern Sponsored Research and Northwestern Information Technology.
Program Features
Key advantages of the Huron system and supporting analytics environment that will help reduce administrative burden, facilitate transparency, and provide a generally smoother end-user experience include:  
Online proposal budget development and transparent, streamlined award setup workflow
Centralized project email correspondence stored in a searchable format
End-to-end support for agreement negotiation, including clause library, change tracking, and two-way integration with DocuSign for automating signature collection
Redesigned Data Mart provides a more flexible, user-friendly reporting environment for both Huron and legacy InfoEd
Dashboards tailored by role (PI, department, central office, executive leadership) with at-a-glance features, including workflow queue balancing, deadline calendars, and the ability to embed and display current reporting from 

Tableau
Vendor-hosted application with no customization, enabling faster implementation of new features and reduced upgrade time
Program Governance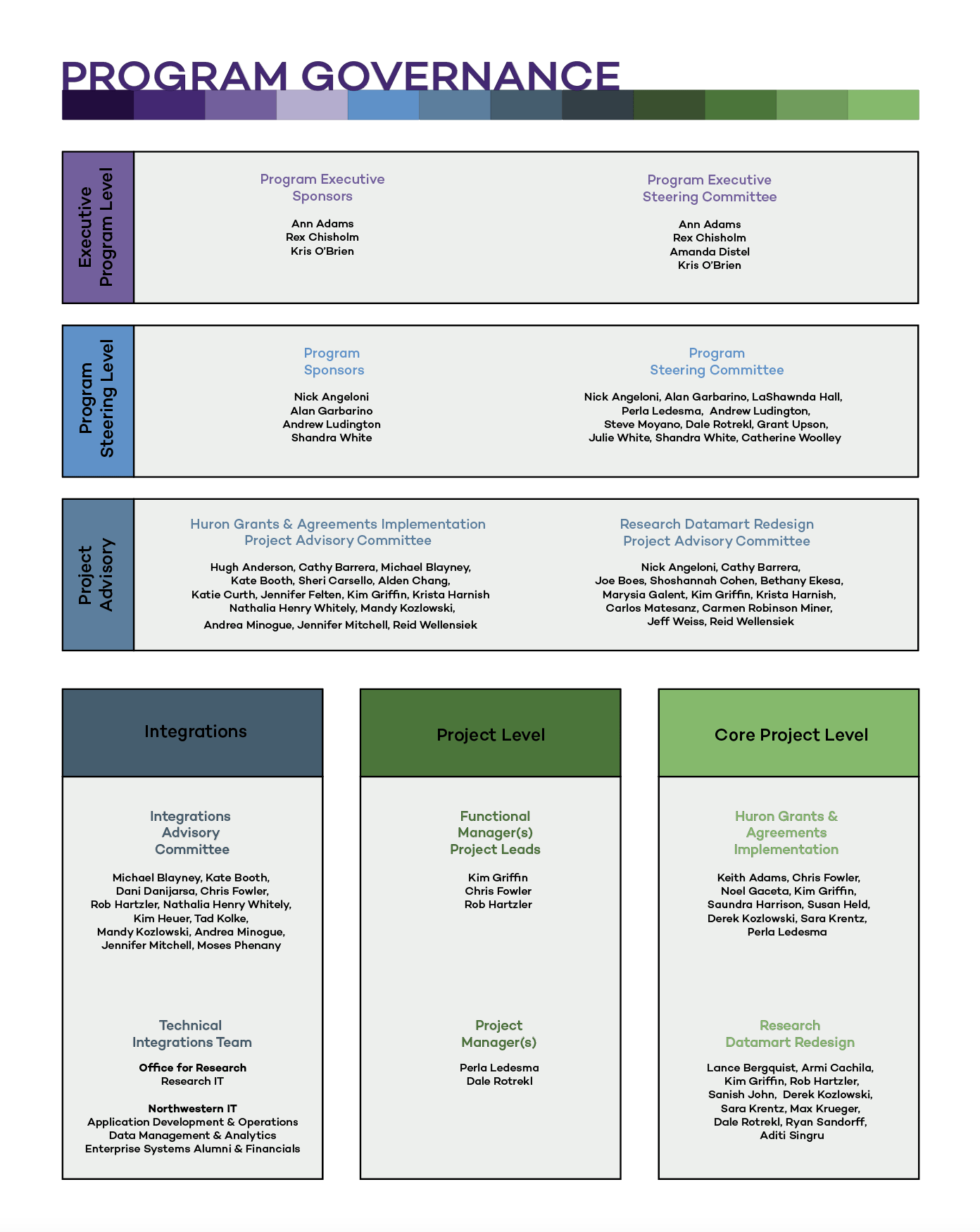 This program is a transformational endeavor that requires extensive collaboration across many Northwestern units. The program's governance structure includes a variety of subject matter experts and executive-level representatives.
View and download Program Governance PDF